Corporate Policy
Transportes Blindados S.A. (trading as "Trablisa") was founded in 1975, and is now one of Spain's leading suppliers of security and secure transport services. The TRABLISA GROUP has now expanded its activities to include the auxiliary and logistics services supplied via its member-companies TRANSPORTES BLINDADOS; ATESE; VISABREN SERVICIOS GENERALES and TRABLISA EXPRESS.
The TRABLISA GROUP is developing its approach to responsible conduct in all the divisions and activities operated by it, including at branch level throughout Spain.
Our Mission
To cooperate with our customers in their organisational management, with a view to allowing companies to dedicate themselves fully to their own professional activity and not have to be concerned with those that they might consider to be secondary.
To offer our customers integrated solutions based on top-quality products and services, while encouraging our staff to develop their professional skills and providing our shareholders with growing and sustainable profitability, while naturally respecting the environment and our society.
Our Vision
To be a sustainable business capable of setting national benchmarks, while rigorously applying our values and work philosophy by providing our customers with fully integrated technological solutions of the maximum quality.
Our Values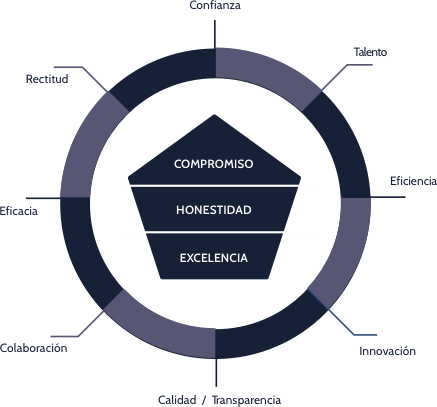 These values are linked to the principles that govern our activity:
• Respect for human rights and universal principles, as well as the general rules of socially responsible management. We are committed to compliance with applicable legal requirements (including full accountability) and with other requirements to which the organisation subscribes, all within a code of conduct designed to promote integrity. We will not under any circumstances neglect the society in which we carry out our activity. This includes respect for human rights and international law, along with a commitment to protection of the environment and the prevention of pollution for the purpose of combating climate change.
• The organisation focuses on customer satisfaction with a view to complying with requirements and, if possible, exceeding expectations. We strive to maintain customer confidentiality at all times, accompanied by a commitment to transparency, ethical conduct and fair treatment for the mutual greater good.
• We equip the organisation with the human resources, infrastructure and working environment required to implement, maintain and continuously improve the effectiveness of the management system, as well as to increase customer satisfaction.
• The guidelines governing the TRABLISA GROUP's relationship with its employees are based on the principles of equality and non-discrimination, integration, confidentiality, diversity, participation, health and safety and the provision of employment of quality. We aim to encourage the participation and involvement of all staff in the organisation and successful development of our management system.
• A key prerequisite for the TRABLISA GROUP entails efforts to prevent damage to and deterioration of health by creating and maintaining high levels of occupational health and safety, done via continuous improvements to working conditions and management and application of the corresponding standards, through the involvement, heightened awareness and participation of all members of the organisation.
• To continue to work on the expansion of our links with current and future partners, in a way that is compatible with our values in terms of respect and satisfaction.
Commitment to respect and the satisfaction of all concerned, along with continuous improvement in all areas and processes that involve our organisation, constitute the fundamental pillars of socially responsible management.
21 October 2017
Sr. Juan Amer Cirer - Managing Director